Zakopane Nightlife and Apres Ski with Sunshine World
Zakopane Nightlife, Clubs+Pubs
If you are looking for a place where you can play all day and party all night, or just party all the time then Zakopane can definitely keep you entertained. There are a number of nightclubs in the centre of town and numerous bars and pubs; Zakopane can cater to almost everyone's tastes. The bars and pubs vary greatly in style with everything from small local bars that do not have too much to offer in the way of fancy décor but will provide the drinks to extravagant American style country bars where girls in hot pants and small t-shirts will serve you. There are a few bars in Zakopane that are solely just bars in that they only serve drinks, however being a tourist town there are a lot of restaurants in the town centre with bars inside.
As in most holiday destinations nightlife varies according to the day of the week and time of year. You cannot expect to go out on a Monday night out of season and find a club full of people. However, you will find the clubs are busy almost every weekend in Zakopane as people from Krakow and further North in Poland regularly stay in Zakopane for the weekend.
During holiday periods Zakopane is not only a popular tourist destination with people from abroad but also with people from all around Poland leading to clubs being packed out every day of the week. Bars and Pubs are open from early in the day until around midnight, with the clubs staying open until around 4 o'clock depending on how busy they are.
The following guide to the bars and nightclubs should help you choose a few places to go and give a rough guide as to what you can expect to find in Zakopane.
---
NIGHTCLUBS
LE SCANDALE
New since 2015 Le Scandale is based in the basement of the brand new luxury hotel, Aries. Offering high end service and opulent decor, top quality cocktails and a very extensive bar sure to satisfy even the most sophisticated of connoisseurs, this awesome club is the place to be in Zakopane. A world class sound system is set alive by carefully selected Djs from around the world. And all of this comes at honestly great value compared with what you'd likely expect at a luxury hotel.
VA VA VOOM
– One of the smarter clubs in Zakopane, Va Va Voom has two floors, a smoking bar area downstairs and upstairs another bar with a dance floor. There are usually live DJ's playing and on a good night the atmosphere can be electric. Over the last 10 years we've had many great memories and no doubt many forgotten memories also at this great club.
MORSKIE OKO

This famous nightclub right on the Krupowki high street plays a mix of commercial and techno music. It is a good place to just sit and enjoy the atmosphere if you are not a dancer as there is a large comfy seating area. There is also a restaurant and 3 main rooms with different music and styles.
PRESTIGE
– A small underground nightclub, Prestige is able to keep a good friendly atmosphere even when there are a lot of people in town. It has a small dance floor and plenty of seating areas all around the club including a private VIP room compete with a pole and TV for any special occasions.
Zakopane Apres Ski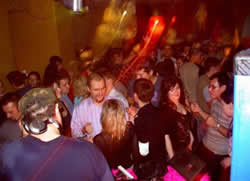 ---
BARS AND PUBS

APPENDIX
– One of our favorite bars. This is a local bar situated in a loft, which overlooks the town's main street, the Krupowki. It has become a popular venue with artists to make shows and has a warm, welcoming feel to it.
PUB NIETOTA
– A simple locally owned bar, has everything you need to sit and drink.
SEAGRAMS
– Zakopane's only Irish bar, Seagram's has a friendly atmosphere and is very popular with British tourists, a good place to find a few friends to party with.
ANEMON
– One of Zakopane's smaller bars, however, Anemon has everything you really need from a bar, a large choice of drinks.
LITWOR HOTEL*****
– The Litwor is a 5* hotel with a stylish bar open to the public.
LEGENDA NIETOPERZA
Legenda is a modern, well-decorated underground café bar. It is a nice place to go if you are looking for a quieter place to sit and drink. As well as the usual alcoholic drinks they serve a variety of hot drinks.
PIANO
– More popular with the local people, Piano is a chic little bar with swings at the bar instead of bar stools. It is only small but has a true local atmosphere.
ANTIDOTUM
– A simple underground bar, Antidotum is a good spot for a last drink before heading to one of 3 nightclubs across the road.
NB All links on this page take you to our main Poland site
Click Here for General Zakopane Information
Click Here for Hotels in Zakopane